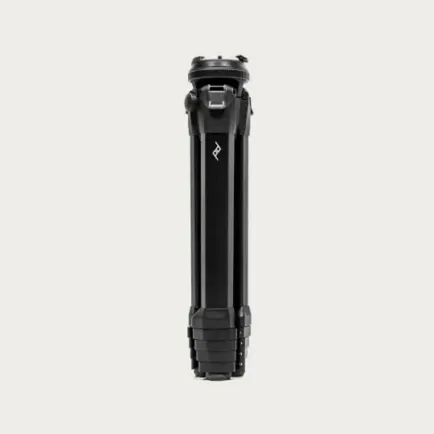 Peak Design Tripod Aluminum Travel Tripod
Peak Design Tripod Aluminum Travel Tripod
Garansi Resmi Peak Design Indonesia.

- Sections : 5
- Weight : 1.56 kg
- Weight Capacity : 9.1 kg
- Length : 39.1 cm
- Diameter : 7.9 cm
- Max height (center column raised) : 152.4 cm
- Max height (center column down) : 130.2 cm
- Min height (low mode) : 14 cm
- Folded Length : 39,3cm
- Camera Mounting Screw : 1/4"-20 Male
- Vertical Tilt : 90
- Panning Range : 360
- Quick Release Plate Type : Arca-Type

Include :
1x Tripod
1x Ball head
1x Weatherproof Soft Case
1x Standard Plate
1x 4mm + 2.5 Hex Wrench
1x Mobile Mount (phone holder)
1x Bushing Removal Tool

Epitomizing the expression less is more, is an impressive ergonomic ball head that replaces cumbersome knobs and levers with space-saving locking and adjustment rings. The rings facilitate omnidirectional movements that are locked in place with a simple twist. Crowning the ball head is a quick release system compatible with Peak Design standard plates, and most Arca-type plates. Arca-type L-brackets can be attached by removing the safety pin inside the clamp. Under the center column is a hook for attaching a stabilizing weight.

Included with the tripod are a handsome fabric storage case, a mobile mount, 2.5 and 4mm hex wrenches, and a bushing removal tool.

Holds DSRL/mirrorless cameras weighing up to 20 lb
Lightweight aluminum construction
Folds down to 15.5&and weighs only 3.4 lb
Aluminum leg cams can be released at the same time
Reversible center column
Weight hook under center column
Ergonomic ball head with adjustment and locking rings
Included soft case, mobile mount, hex wrenches, and bushing removal tool.